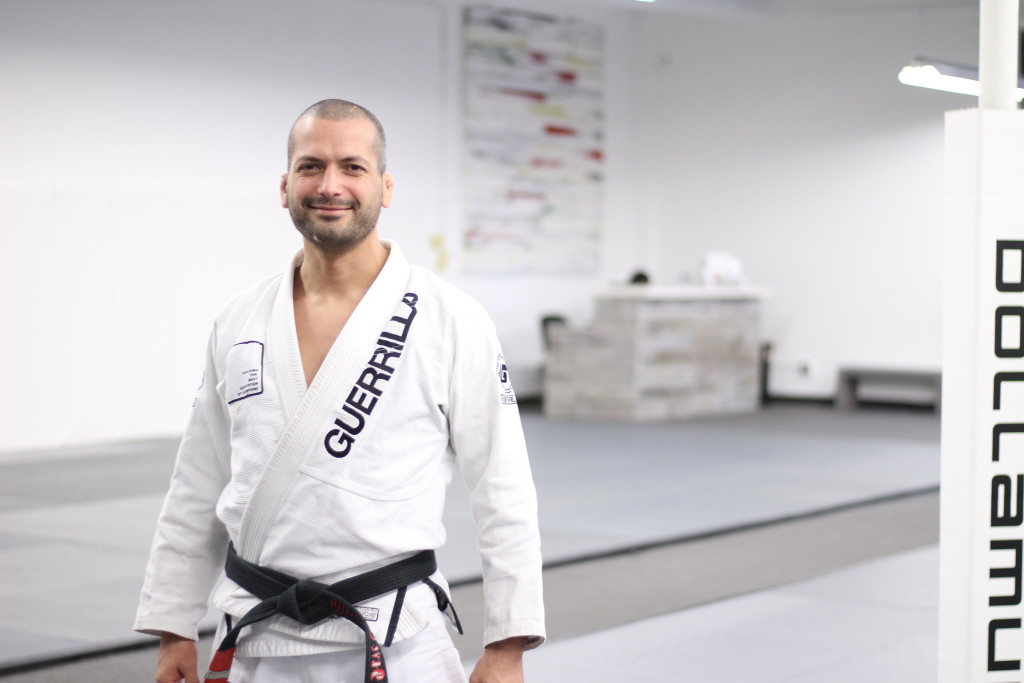 Dave Camarillo
Head Instructor - Guerrilla Jiu-Jitsu HQ Pleasanton
Coming from a family that had a rare dedication to the sport of judo, David Camarillo was practically raised on grappling mats. His father, Jim, was the founder and head of the Bakersfield, Calif.-based South Valley Judo Club, and for David and his older brother, Dan, training in judo was not a choice, but a way of life. Through South Valley Judo, Jim Camarillo trained many junior national and national champion judokas, and the demanding training regiment he set for his sons laid the foundation for their uniquely successful careers in both judo and Brazilian Jiu-Jitsu.
David trained almost exclusively under his father until the age of 18 (1996), when he moved on to Fresno State Judo, where he would stay for two years. During that time, he made a total of seven trips to Japan, where he trained at (among other places) the prestigious Tsukuba University, with many Olympic and World champion judokas. While he was in Fresno, David suffered a knee injury that prevented his tachi waza training (standup fighting in judo) and limited him to strictly ne waza (mat training). During this time, no-holds-barred fighting competitions were starting to take place in America and were being dominated by ground fighters, most notably the Ultimate Fighting Championship, which was won convincingly by Brazilian fighter Royce Gracie. In the early UFCs, Gracie utilized his family's original style of Brazilian Jiu-Jitsu to submit boxers, shootfighters and karate fighters with relative ease. Upon seeing the performances by Gracie in the UFC, the Camarillo's assumed, as many other judokas did, that his fighting style was the same as the one they had been raised on.
Hampered with the knee injury that forced him to train on the ground only, it was the perfect time for David to investigate Gracie Jiu-Jitsu. He found an academy in Pleasant Hill, Calif. that was run by Cesar and Ralph Gracie. From the first day he trained with the Gracie's, David began to notice major differences between judo and BJJ-most notably jiu-jitsu's emphasis on technique over strength, something that has become a defining theme in his own teaching today. For someone that prefers to let free weights collect dust while he spends countless hours on the mat, it was a perfect fit. In fact, David progressed at a rate that few ever have in BJJ, earning his blue belt after just ten practices. After a year of making the three-hour treks to the Bay Area to train jiu-jitsu, David moved there permanently, taking a teaching position at the Gracie Academy and joining the judo team at San Jose State University, the most dominant club in collegiate judo history.
Combining his newfound ground skills with almost 20 years of judo training, David was soon dominating high caliber competitions in both sports. He was quickly earning a reputation in judo circles for his show-no-mercy, submission-style of fighting. Never having been satisfied with simply pinning opponents for a victory in judo, David's jiu-jitsu skills were enabling him to armbar and choke out his foes in ways many judokas had never seen. His cross-training reputation followed him to the jiu-jitsu circuit, where his judo skills quickly gained notice. In a commentary on David's abilities as an overall grappler, OntheMat.com once said, "It's funny that everybody in Judo is scared of David's ne waza and everybody in Jiu-Jitsu is scared of his stand up. (We) guess people in general are just scared of him." They weren't the only people taking notice of David's extraordinary grappling game-after he dominated the lightweight and open weight classes at the 1998 Rickson Gracie American Jiu-Jitsu Association tournament, the legendary Rickson Gracie himself bestowed the honor of Most Technical American Jiu-Jitsu Fighter upon David. The recognition was well deserved, as it would take him just six years to receive his black belt in BJJ, four of which were spent as a brown belt.
His accomplishments as a competitor have continued to mount over the years (David also tried his hand at No Holds Barred fighting, winning the 1998 Folsom Free Fighting Challenge), but he has also established himself as a top-notch teacher and coach. He brings a rare blend of world class takedown and ground fighting skills to his classes, as well as an easy going, amiable personality that enables him to connect with anyone that sits in on a class. David has amassed a large following of students not only at the main Ralph Gracie academy in Mountain View, Calif., but several Ralph Gracie affiliates that he has opened in Northern California. In September of 2003, he branched out even further, taking over the Brazilian Jiu-Jitsu program at the American Kickboxing Academy in San Jose, Calif., where his wealth of grappling knowledge has become a valued resource among the gym's NHB fighters. His students continue to show that his tremendous ability as a competitor carries over to his instruction, in both grappling and mixed-martial arts events. David has trained and prepared many notable fighters, including WEC/IFC World Bantamweight champion Cole Escovedo, WEC/UFC veteran Mike Swick, UFC MIddlewieght Josh Koscheck, KOTC Heavyweight champion and top-ranked UFC Heavyweight Paul Buentello, MMA Mexico WW World champion Jon Fitch and top-ranked 155-pound fighter Josh Thomson. In addition, David's services are sought throughout the United States and internationally for seminars and private instruction.
You can follow @DaveCamarillo on Twitter and friend him on Facebook for updates.